Increase Chances Of Success With Our Video Book Trailer Services
Book trailer video allows the reader a new means for experiencing a fascinating story. It is one of the most efficient ways to present the book's potential to recommended readers. At Book Writing Lane, we can help you do that. We can create an interesting video book trailer and promote it across different digital platforms so that readers can spot you instantly.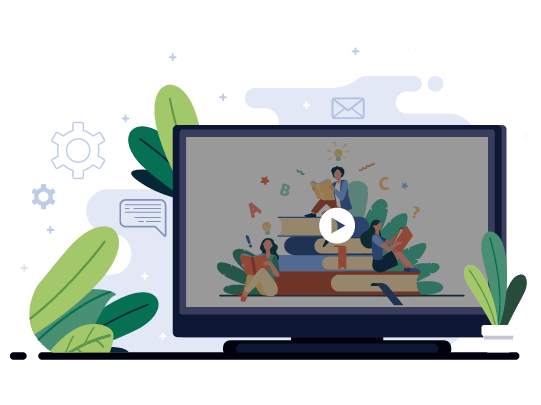 Enhance Your Book's Discoverability The Easy Way
Original, Innovative, And Affordable Book Trailers Are Now In Your Reach
Our Approach
A Compelling Video Trailer From Book Writing Lane Can Help You Stand Out
Communicate Idea

Faster

Our video trailer can spark the interest of your audience. It can offer the best way to communicate your ideas faster and improve their online experience.

Get Your Message

Across

A video trailer from us will let your readers know what your book is all about. It will encourage them to think differently about your book.

Increase Social

Engagement

Our book trailers can be the perfect tool for engaging your readers. Being shareable, it can directly impact your marketing and search engine optimization efforts.
Get In Touch For Book Video Promotion
You can count on our book trailer production services to provide you an interesting promotional content to effectively market your book across the globe. Reach our team to create a video book trailer today!
Client Testimonials
Our clients trust us with their dreams and we turn them into a solid reality. Hear it from our clients:
JN
I had a ghostwriting project on thriller and mystery themes and I gave this task to the book writing lane. Their team did a great job creating excellent and eye-catching material for the readers.
Jordan Norton
March 20, 2023
KR
These guys did an amazing job at taking what I wanted illustrated and my words and ideas for the book and bring it to life! Highly recommended!
Kouri Richins
March 15, 2023
CP
Book Writing Lane created an attractive cover that offers a strong aesthetic appeal. It relates the entire story in a single picture without opening the book. In addition, the typography communicates emotions and sentiments clearly. I strongly recommend them to all book geeks!!
Cyrill Powell
October 07, 2022
CJ
I wanted to write a novel, but because of writer's block, I was unable to do that. I approached Book Writing Lane for this job, and the novel they delivered to me was just amazing from the start till the end. It was highly captivating, and I got a positive response from my readers. A big shoutout to this team.
Criis Jonson
February 04, 2022